The Grand Opening Ceremony of Specialty Biotech Co., Ltd. was held in the great date and time in 18 March 2006 at 9.19 a.m..
We, as the representative members of the company, were very impressive for the kindly presentation of His Excellency Korn
Thapparangsi as a chairman in the Grand opening ceremony. The event's atmosphere was held in plenty of warmed welcome and
happiness from our beloved guests. Visitting Programme in 28 October 2005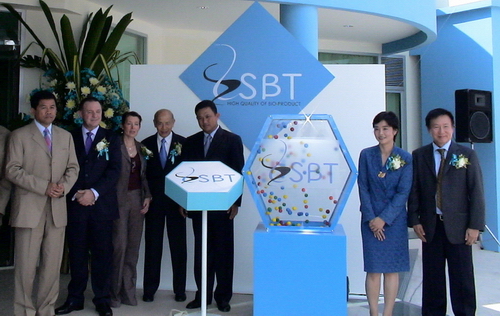 Name, position of top executive in the photo (from left to right)
1. His excellency Korn Thapparangsi AUA President
2. Mr. Lens Device R&D Director of Uniliver Co., Ltd.
3. Dr. Federic Girard Chairman of Dermscan group
4. Pol. Gen. Chowalit Yodmanee Chairman of Specialty Biotech Co., Ltd.
5. Mr. Vibul Krommadit Board of Directors of Amatacoorperation Co., Ltd.
6. Dr. Panvipa Kritsdapong Managing Director of Specialty Biotech Co., Ltd.
7. Mr. Surapat Kritsdapong Chairman of Namsean group