Yeast - An Overvie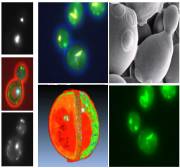 Yeasts have been fed to animals for more than a hundred years, either in the form of yeast fermented mash produced on the farm, yeast by-products from breweries or distilleries, or commercial yeast products specifically produced for animal feeding. Although yeast feeding has been around a long time, there is confusion throughout the industry concerning what the various yeast products really are.
Yeasts are microscopic fungi -- single-cell organisms which are generally about 5-10 microns in size. They are given Latin names which represent their genus and species (e.g., Saccharomyces cerevisiae or Candida utilis). The species differ from each other by: where they are found, their cellular morphow they reproduce. While there are nearly 50,000 species ofhology or shape, how they metabolize different substrates, and fungi, there are only 60 different genera of yeast representing about 500 different species.
Yeasts are abundant throughout the environment i.e. water, soil, plants, air, etc. They can be found on cereal grains, grain by-products, silages, hays and are even present in the soil and water. Several species have proven very beneficial to man, while a few imperfect yeasts are known to be pathogenic. But, most yeasts are benign saprophytes and have proven neither useful nor harmful to man or animal.
Very few species of yeast are used commercially. Saccharomyces cerevisiae, also known as "bakers yeast", is one of the most widely commercialized species. Selected strains of this yeast are used by breweries to make beer and ale, distilleries to make distilled spirits and industrial alcohol, and wineries to make wine. Candida utilis (formerly classified as Torulopsis utilis) is the yeast known as "Torula Yeast". This yeast is important because it can utilize the pentose sugars from processed wood pulp used in making paper. A third useful yeast is Kluyveromyces marxianus. This is the "Whey Yeast", which can utilize milk sugar or lactose as a substrate.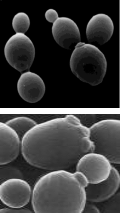 Yeasts are "facultative anaerobes" which means that they can survive and grow with or without oxygen. Yeast propagation is an aerobic processes where the yeast converts oxygen and sugar, through oxidative metabolism, into carbon dioxide and usable free energy for efficient yeast cell growth. However, the production of alcoholic beverages (beer, wine, whiskey, etc.) and industrial alcohol are anaerobic processes. Anaerobic fermentation is much less efficient, resulting in considerable "metabolic by-product" in the form of ethyl alcohol. The yeast ferments simple sugars into ethanol and carbon dioxide and the yeast grows very slowly. To optimize ethanol production, the fermentation process is carried out without oxygen being present; but, to maximize yeast cell growth, an abundance of oxygen is provided in the form of air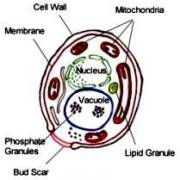 Yeast Fractions

Yeast extracts and autolysates are produced from whole yeast cells, either debittered brewers yeast or primary grown bakers yeast, and are used extensively in the food industry for flavor enhancement. Yeast extracts consist of the intracellular components of the yeast cell, with the yeast cell-wall removed. Yeast autolysates consist of ruptured or lysed cells and contain both the intracellular and cell-wall fractions. Both contain 5'-nucleotides and glutamate which enhance flavor recognition. Yeast extracts are also used as microbial stimulants in the Yeast cellfermentation industries and microbiologists use them in theirlaboratory growth media to optimize bacterial growth.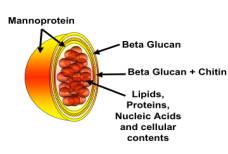 Yeast cell-walls remaining as a by-product in the manufacture of yeast extracts are often called yeast hulls or yeast ghosts. They consist predominantly of beta-glucans and mannans, with some chitin and protein. Yeast ghosts are often used in wine making to avoid "stuck" fermentations due to accumulating octanoic and decanoic acids. These acids are adsorbed onto the ghosts which prevents their inhibitory effect on fermentation.
Autolysates:
These yeast products consist of whole yeast cells which have been broken open (lysed) by means of letting the yeast cell destroy itself using its own autolytic enzymes (autolysates), by using acids or enzymes to hydrolyze the cell (hydrolysates), or by rupturing the cell using osmotic pressure due to suspending the yeast cells in a high salt solution, called plasmolysis (plasmolysates).
They contain both the cell contents and the cell-wall of the cell. Autolysates are the cleanest of the three types of products, because hydrolysates and plasmolysates are generally high in salt or sodium content due to the salt gradients used in plasmolysis or the use of bases to neutralize the acids used to make hydrolysates.
Autolysates are used extensively by the food industry for their ability to enhance food flavors, especially in soups and snack products. This enhancement is due to the yeast's nucleic acid content – the 5'nucleotides. The nucleotides add "savoriness" to food by accentuating the effects of glutamic acid or monosodium glutamate to enhance flavors.
Yeast Extracts:
Yeast extracts consist solely of the intracellular contents of the yeast cell, following lysis of the cell, with the cell-wall removed. They are used by microbiologists in the preparation of microbial growth media and by some industrial and pharmaceutical fermentations. Extracts are rich in amino acids, vitamins and trace minerals and function as growth stimulants for microorganisms.
Yeast Cell-Walls: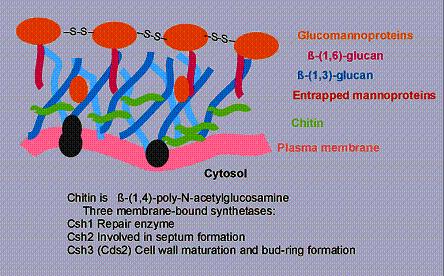 The yeast cell has a carbohydrate shell around it called the yeast cell-wall. It is often called a "glucan shield" and consists mostly of beta-glucans and mannans. These are structural polysaccharides (chains of sugar molecules) similar to starch or cellulose. Beta-glucans are chains of glucose sugar molecules, just like starch, but the sugars are joined together with different linkages (beta-1,3 and 1,6 linkages instead of alpha-1,4 and 1,6 linkages). Therefore, different enzymes are needed to break them down into absorbable sugar molecules. Mannans are chains of a different sugar molecule called mannose.
The yeast cell wall is thought to have a unique ability to adsorb or bind with certain things in the digestive tract, especially bad things like toxins, anti-vitamins, viruses and pathogenic bacteria, and is presumed to have a protective or flushing effect in the gut. The mannan fraction of the yeast cell wall is also thought to be a special polysaccharide which is selectively consumed by good bacteria in the gut. These good bugs, in turn, suppress or kill the bad bacteria like salmonella. This is the same concept behind a product called fructooligosaccharide or FOS. The yeast product is similarly called "MOS", the acronym MOS standing for mannanoligosaccharide (an oligosaccharide is a polysaccharide which is only 3-10 sugar molecules long instead of hundreds of molecules, suggesting that it is a short chain mannan). When these short-chained mannans are fed, they are not digested by the animal, but are consumed by select bacteria in the gut which grow rapidly and have a probiotic effect against bad bugs.
References and Suggested Reading
Kreger van Rij, N. J. W. (ed.). 1984. The Yeasts: A Taxonomic Study. Elsevier Biomedical Press, Amsterdam, Holland.

Reed, G. and T. W. Nagodawithana. 1991. Yeast Technology (2nd ed.), Van Nostrand Reinhold, New York.

Peppler, H. J. 1983. Fermented feeds and feed supplements. In Biotechnology vol 5, G. Reed (ed.), VCH Publishing Co., Weinheim, West Germany.
Peppler, H. J. and C. W. Stone. 1976. Feed yeast products. Feed Management 27(8):17-18.